Glass cleaning

Surface cleaning and preparation.
Surface tension is on the decisive criteria for adhesion of paints, adhesives, varnishes, paints, etc. on any surface. Surface tension is measured in mN /. As a general limit, the value of 38mN / m is often stated. If the surface tension is below this value, the adhesio will be poor.

The higher the surface tension of the material, the better the adhesion of the above-mentioned materials is when it is fixed to the surface. Surface contamination ( grease, oil, fingerprints) may be due to low surface tension and consequent difficulties in production and processing.
In our product range we have many products to ensure the best adhesion of all materials on glass. ( Cloths made of non-woven fabric and paper towels, cleaning chemicals and special products for cleaning dirt off glass).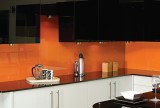 Only room temperature drying technology! Make your own painted glass. Easily, quickly, effectively, thousands of colors (RAL, NCS, Pantone).
more information
Digital Tin Side detector determines the tin side of float glass without the use of an ultraviolet bulb.
more information