Organic paints for flat glass

Organic paints RTP
Drying temperature: 180-200°C
Application:
- direct screen printing
Version:
- opaque
- transparent
- matt
- metalic
Description: SpecTruLite RTP screen printing inks are designed for one color-applications or the final color of multicolor jobs. They provide glass decorators with a full palette of heavy metal free and solvent free colors and special effects for brilliant decorations.
RTP inks are room temperature screen-printing inks based on organic polymer. SpecTruLite screen printing inks are provided in a liquid paste form. At a temperature of about 200°C, the inks polymerize to give a hard scratch resistant film.
Watter base organic coatings HKW
Drying temperature: 180-200°C
Application:
- spraying
- pinsel
Version:
- opaque
- transparent
- matt
- metalic

Digital Tin Side detector determines the tin side of float glass without the use of an ultraviolet bulb.
more information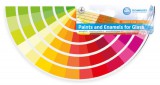 Note of RAL and NCS available shades of Ceramic colors for Flat Glass.
more information