Organic Paints For Glass
We are glad to introduce you our complete system of highest quality glass organic paints.
This system consist of :
- Water based organic paint system (AQ2)
and
- Uniquely resin based paint system (ColorSpray)
We are ready to show you benefits of both systems in our new training centrum. Let's try!



Huge colour ranges and effects available:
:: For AQ2 organic non firing water based paints you can use our ONLINE RAL RECIPES DATABASE.
:: For ColorSpray resin based glass organic paints recipe calculation SW available for FREE.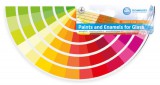 Note of RAL and NCS available shades of Ceramic colors for Flat Glass.
more information

We are traditional producer of Ceramic Enamel Paints for toughened glass. More than 20 years experience with tinting process.
more information