CadRam Sandblast Colour System
CadRam have developed a coloured resin system for use with deep blasted glass. CadRam resins are guaranteed for 10 years externally and can be blended together to create exciting effects.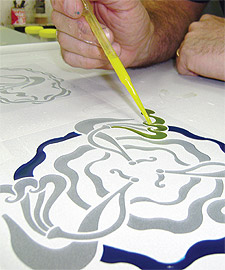 Its so simple to use…
Step 1 - Blast area you wish to colour (minimum 1.5mm depth).
Step 2 - Mix the resin colour. Equal parts A & B and then add pigment.
Step 3 - Apply colour into sandblasted area using pipette.
...and create stunning results!
Videa
---

We are traditional producer of Ceramic Enamel Paints for toughened glass. More than 20 years experience with tinting process.
more information
Digital Tin Side detector determines the tin side of float glass without the use of an ultraviolet bulb.
more information