self adhesive lead
With a wide range of colours and widths our lead profiles give so many creative options for doors, windows, cabinets and craft applications in both interior and exterior locations.
RegaLead currently manufacture over 30,000,000 mtrs of adhesive lead profiles per year- enough to go around the world in 18 months or to cover a million M2 of glass in a typical diamond pattern!!
Lead had been used for centuries in the creation of traditional leaded lights due to its malleability and ease of use. Our adhesive lead profiles retain these properties and our narrower widths are ideal for creating stunning decorative designs whilst our wider widths are used mainly for designs with straight lines.
With currently 14 finishes and 13 profiles and widths ranging from 2mm to 18mm, we have a choice of lead profile to suit all your requirements. Natural lead gives a traditional leaded window look while the range of coated products avoid the natural ageing process of natural lead and range from white through to brass, platinum and ebony including some satin finishes.
Our Self adhesive profiles are made with 99.5% pure lead which is modified with a small amount of antimony to improve its weathering performance and surface polish .A high performance, acrylic, pressure sensitive adhesive ensures a long life span in both single glazing and in double glazed units. All our products are manufactured to ISO 9001:2 quality standards and have been tested in units complying with the European standard EN1279. Our coated lead products have been fully weather and age tested to the ASTM-G53-96 standards.
A high performance acrylic, pressure sensitive adhesive ensures a long life span in both single and double glazed units. Products are manufactured to ISO9001:2 quality standards and have been successfully tested in units complying to EN1279.

We are traditional producer of Ceramic Enamel Paints for toughened glass. More than 20 years experience with tinting process.
more information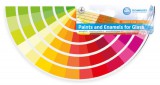 Note of RAL and NCS available shades of Ceramic colors for Flat Glass.
more information