Removal of decorative paint by sandblasting.
Sandblasting over the template can effectively remove the layers of paint applied to the substrate. This technique is very popular, for example, for sandblasted dyed mugs or large format flat glass.
I want to learn more about this technique.
Digital Tin Side detector determines the tin side of float glass without the use of an ultraviolet bulb.
more information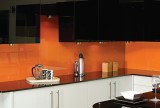 Only room temperature drying technology! Make your own painted glass. Easily, quickly, effectively, thousands of colors (RAL, NCS, Pantone).
more information