STARGLASS ROLLERCOATING MACHINES
Starglass is a brand new machine, suitable to the enamelling and design printing of glass sheets by means of an engraved cylinder.
The machine is made up of two elements, the main machine and the introduction belt mounted on rails.
It features advanced solutions such as oscillating colour blades made by an extremely rigid structure to allow a vibration free operation. The blades are pneumatically driven with an uniform and precise movement in order to avoid their rectification due to their uneven wearing out and to allow their automatic smooth positioning at the cylinder change.
The engraved cylinders are mounted on a revolving support, liftable by pneumatic pistons for their quick change.
The centesimal regulation of working thickness is motorised by a digital control with visual display on the command board.
The geometry of the rubber conveyor belt assures a perfect alignment and a constant planarity. Its belt pulling group is set on the back return cylinder in order to avoid any vibration. The replacement of the belt is easy and rapid since the whole group composed of the transportation belt and inside cylinders is extracted frontally.
WORKING POSSIBILITIES
REVERSE engraved cylinder: any product covering and varnishing.
SYNCHRO engraved cylinder: design effects.
Photogallery
---
Videa
---
Digital Tin Side detector determines the tin side of float glass without the use of an ultraviolet bulb.
more information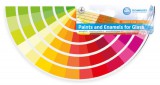 Note of RAL and NCS available shades of Ceramic colors for Flat Glass.
more information