WORKSHOP:
HOW TO SPRAY GLASS BY ORGANIC PAINT
Are you afraid of applying varnish on glass? Then come to our training center and become an expert with color preparation and application. Get a competitive advantage the easy way, come and fulfill your customers requirements.
Seminar dates: 10.5.2018 22.5.2018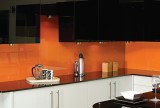 Only room temperature drying technology! Make your own painted glass. Easily, quickly, effectively, thousands of colors (RAL, NCS, Pantone).
more information
Digital Tin Side detector determines the tin side of float glass without the use of an ultraviolet bulb.
more information