Ceramic Enamels
Our flat glass ceramic enamels for glass decoration during the tempering process.
---
---
---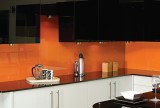 Only room temperature drying technology! Make your own painted glass. Easily, quickly, effectively, thousands of colors (RAL, NCS, Pantone).
more information
Digital Tin Side detector determines the tin side of float glass without the use of an ultraviolet bulb.
more information